This site is reader-supported. If you click on some of our links, we may receive a commission at no cost to you. [Disclosure]
There's no doubt that Amazon is one of the largest marketplaces where people turn to for shopping. And with the customer base running into the millions, you too can get a share of the market by promoting Amazon products through your website as an Amazon affiliate marketer.
Before we go into details on how you can make money through Amazon, let's first understand what the Amazon Affiliate Program is.
This is an affiliate marketing program where website owners or bloggers can advertise Amazon products on their website through links and earn a commission when someone makes a purchase. The commission ranges from 1% to 10%.
If you're interested in joining the Amazon affiliate program, here's a step-by-step process on how to become a member.
1. Access The Affiliate Area
To get started, visit the Amazon website and scroll down to the footer page. Once there, locate 'Become an Affiliate' and click on it. You'll be redirected to a different page where you can begin the process.

Choose to Sign in if you have an existing Amazon account or Sign up if you don't. New accounts will have to be verified through an automated phone call.
2. Add Account Details
Enter your account details, including your name, address, and phone number.
3. Enter Your Website Address
In this section, you're required to enter the details of your website, apps, or YouTube channel address.
4. Select Your Preferred Store ID
Here, you should enter your preferred store ID. Often, your desired stored ID is the same as your primary website name.
For example: outdoorsports-20
Once you provide the ID, you need to explain what your site is about and what you hope to achieve with your channel/website. Also, you need to select all the Amazon topics you're likely to target.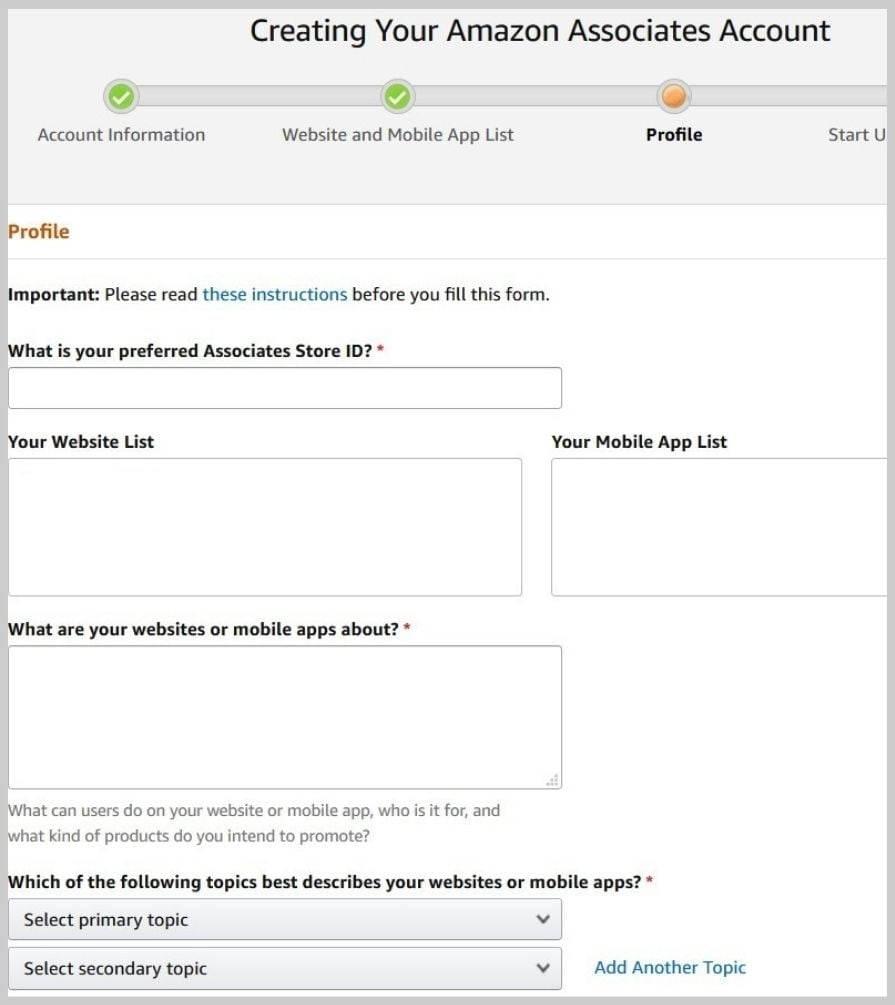 5. Explain Source of Traffic
In this section, you're required to provide details on your website traffic, how you build links, and how many visitors your site receives each month. If you're just starting out and have none at this point that is okay.
6. Choose Payment Method
In this step, you need to provide information on how you want to be paid. Plus, this is the area where you will provide your tax ID information. Here, you have the option to provide information now or later.
The methods of payment are:
Direct deposit
Amazon Gift Certificate
Check
7. Create Amazon Affiliate Links
Once your account is ready, you'll be sent to your Amazon associate homepage. On this page, you'll find your performance dashboard. Additionally, it's where you'll find the products to link to in your content.
Be sure to familiarize yourself with Amazon Associates Program Operating Agreement before you start promoting your links.
To get links to include in your content, follow the steps below.
Log into your account: This helps ensures that the link text generated is associated with your account. Note that Amazon assigns you a unique tracking ID that is used to track your earnings once you create an account.
Select Product links: From the top banner, click on product linking. This should take you to a page that will prompt you to generate your link.
Add Product ASIN: ASIN is a 10-character code assigned to products by Amazon. You can find the ASIN information from the product listing or search through the catalog.
Click the go button: Once you locate the product you want to promote, click on the go button to generate a result.
Click the Get Link button: You can then use the generated link in your promotions according to Amazon's guidelines. Keep in mind that links cannot be used in emails, eBooks or PDFs, or offline advertising.
As a general rule, start with a niche that you have an interest in before choosing a product to promote. The products you choose should meet the following criteria.
Satisfy a specific consumer need
Have multiple positive reviews
Be fulfilled by Amazon (FBA)
Generate lots of visitors (traffic) regardless of the time of year
Furthermore, you can use the Amazon commission structure to see which categories are more profitable.
Here is the breakdown of the commission rates:
| Product Category | Commission Rates |
| --- | --- |
| Luxury Beauty, Amazon Coins | 10.00% |
| Digital Music, Physical Music, Handmade, Digital Videos | 5.00% |
| Physical Books, Kitchen, Automotive | 4.50% |
| Amazon Fire Tablet Devices, Amazon Kindle Devices, Amazon Fashion Women's, Men's & Kids Private Label, Luxury Stores Fashion, Apparel, Amazon Cloud Cam Devices, Fire TV Edition Smart TVs, Amazon Fire TV Devices, Amazon Echo Devices, Ring Devices, Watches, Jewelry. Luggage, Shoes, and Handbags & Accessories | 4.00% |
| All Other Categories | 4.00% |
| Toys, Furniture, Home, Home Improvement, Lawn & Garden, Pets Products, Headphones, Beauty, Musical Instruments, Business & Industrial Supplies, Outdoors, Tools, Sports, Baby Products | 3.00% |
| PC, PC Components, DVD & Blu-Ray | 2.50% |
| Televisions, Digital Video Games | 2.00% |
| Amazon Fresh, Physical Video Games & Video Game Consoles, Grocery, Health & Personal Care | 1.00% |
| Gift Cards; Wireless Service Plans; Alcoholic Beverages; Digital Kindle Products purchased as a subscription; Food prepared and delivered from a restaurant; Amazon Appstore, Prime Now, or Amazon Pay Places | 0.00% |
Based on the above commission structure, you might think that the best products to promote are the ones with high commissions, but that's not always the case.
If you're looking for the best categories to promote, then you might consider the following.
1. Electronics
With the new norm, an increasing number of people are now working from home. Consequently, electronic items like PC and PC components are in high demand. Besides, everywhere we go today, we're surrounded by technology. With the current demand for technology, investing in this category will pay you dividends in the long run.
However, if you're planning to invest in this category, you must be prepared to fight with the big giants.
Besides being a promising category, the PC and PC components pay a commission of 2.50%, but there's power in bulk selling.
2. Jewelry and Clothing
With the onset of Covid 19, people are now looking for casual wear to put on while they are working. Some of the best products in this category include:
Casual tops
Casual bottoms
Dresses
Accessories
Additionally, the jewelry category pays a commission of 4%.
3. Home Improvement
This category pays a commission of 3%. Some of the products you might consider include office desks and chairs, home safety and security, and pet products.
How to Promote Your Amazon Affiliate Links
Listed below are some of the ways you can promote your Amazon links.
1. Through Blogging
This is probably the most common method an affiliate marketer uses, to make money through Amazon associate program. You can earn income with Amazon associate on your blog through the following ways:
a. Write in-depth and valuable reviews for new products on Amazon. Try to aim for 2,000 or more words. Remember, 80% of sales today start with people searching for those products online before purchasing.
b. Keep an eye out for special offers from Amazon and promote them on your blog.
2. Use Social Media
Social media platforms such as Facebook and Twitter can be utilized to share your affiliate links. Accounts being used must be operated by the Amazon associate. Also, the exact social network URL must be included in your account information in Associates Central.
If you opt for this method, include a note which states that you will receive a commission if users make a purchase through your link. Be sure to follow the guidelines outlined by these social networks.
Make More Money With Amazon – Start Free Trial Here
Let's not forget about Pinterest. This platform is often neglected and can be a huge source of potential customers. You can start out with a free tool like Canva to create your images.
3. Through Youtube Videos
Interactive content is taking center stage when it comes to marketing. And video marketing is one of those evergreen areas where you can share your affiliate links. The primary benefit of using videos is that you can offer in-depth product tutorials or reviews to help potential buyers.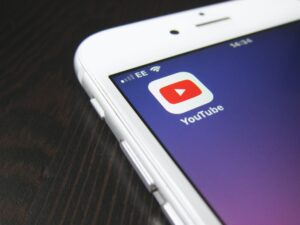 Affiliate links are placed below the video in the YouTube description field. It is essential to be transparent with your viewers by also including an affiliate disclaimer.
4. Through Email Campaigns
If you're looking for an autopilot option to promote your affiliate links, then this is the way to go. You can create a landing page and offer a free giveaway as a lead magnet to capture emails.
Once people sign up, you can then send an email about new products or a review you just posted. You are not permitted to include Amazon affiliate links directly in your emails. However, you can have the email link out to a page or post on your site. When visitors click on the links they will be directed to Amazon.
How to Build an Amazon Site
If you're searching for the best way to scale up, you need your own website.
Although the process may seem challenging, with the advent of powerful site builders like WordPress, Wix, and Squarespace, building a website is very simple and involves no coding.
You will need the following tools to get started:
Register a domain name that's catchy and easy to remember with providers like Namecheap, Bluehost, or GoDaddy.
Choose a hosting provider such as Hostgator, Bluehost, or Siteground. Your hosting provider will give a hosting space for your web files.
Choose a Content Management System (CMS). In this case, we recommend using WordPress.
For page building, we recommend an easy-to-use drag and drop interface like the Divi plugin.
To boost your site's performance and security set up a free account with Cloudflare.
Once your website is complete, you should write high-quality content about the products that you're promoting. This can be in the form of a review, blog post, or product comparison.
To find the right search terms for those products, perform thorough keyword research. This can be accomplished with keyword tools like Ubbersuggest and Ahref's Keyword Explorer.
If your site ranks in the search engines for particular keywords, you should see a consistent flow of traffic to your site which grows over time. After all, how can you make a commission if there's no one to click on your links?
Final Thoughts
Amazon affiliate marketing is a terrific way to build a passive income online. The commission ranges between 1% to 10%. By promoting your links through social media or your own blog, you are able to easily monetize your content.
To increase your income potential, sign up for multiple Amazon Affiliate programs. Not only the one in your region but others as well. The program is available in North America, Europe, East Middle-East India, and Asia, and Australia.

Bear in mind that the Amazon affiliate program will not bring you overnight riches. However, by providing quality content and consistent effort, you're sure to reap great benefits in the long run.